Open House - The Real Estate & Mortgage Show: October 1st, 2022
Date Posted: October 3, 2022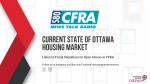 Today's housing market is changing by the area. Some areas of Ottawa having homes with multiple offers and some areas have houses sitting on the market for weeks without offers. Same goes for the number of listings available; some areas have great selection whereas others may only have a couple.
Prices on some townhomes have been dropping back down from the peak they hit over 2022, leaving people with the question of whether to jump on it now or wait even longer. It's always difficult to predict what will happen in the future, however, it's always better buy and wait instead of waiting to buy.
Michael Hapke from Advanced Mortgage Investment Company joins the show and shares some numbers from their just finalized fiscal year. With average returns sitting around 7.5%, investing in mortgages has been proving to be a great way to invest your money. They are forecasting their average rate for the following year to be around 8%. You can make an appointment to get more information and find out if investing in mortgages is suitable for you.
To listen to the full episode, click here.
Contact your Mortgage Broker today for trusted advice.