Open House - The Real Estate & Mortgage Show: August 13th, 2022
Date Posted: August 15, 2022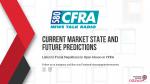 The last BoC (Bank of Canada) interest rate increase has slowed down the market quite a bit. We are no longer in the times of a seller's market and are in a more balanced market today. House prices are slowly coming back down to a reasonable level, and we are seeing some areas of the market favouring buyers and some favouring sellers.
As mentioned in previous radio shows, you are still getting a great deal if you are selling your home today. We saw a big spike in March and April of 2022 but comparing with 6 months ago, houses are still selling for $90,000 more than they were on average.
We are predicting another increase from BoC in September will be around .25%. Inflation numbers are predicted to come in between 6% and 7% after the month of August which will ideally result in a .25% increase in September. They will have 3 more meetings this year with possible increases, however, it is difficult to predict what amount the increases will be this early.
To listen to the full episode, click here.
Contact your Mortgage Broker today for trusted advice.