Buy or Sell First?
Date Posted: August 4, 2022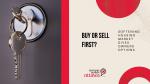 In the aftermath of increasing Bank of Canada rates and interest rates, markets across the country have begun to cool into a more balanced market.
"Certainly over the past few years, the pandemic years specifically, the market has been crazy and lots of multiple offers were happening all across the country – people were being forced to buy first," says Stacey Evoy, president of the Ontario Real Estate Association and a real estate broker at Royal LePage Triland Realty in London, Ont. "It put people in an uncomfortable situation, but they knew that their house was going to sell."
Homes were selling over asking and multiple-offers were common place and the odds of finding a buyer for an existing home was an easy task. Now, we are seeing a transition to a more traditional market with more choice and less competition. Average prices are still significantly higher than they were 2 or 4 years ago.
"It's still a good market, but a little bit less crazy than we've been in the last two years," she says. "I would say that we're getting back to a healthy market, one where both sellers and buyers have advantages. It's more of what we would call a fair market."
"Interest rate increases have been quick to cool demand and bring prices down from historic highs that peaked in March."
Aside from the market, buyers and sellers should consult with their team of realtors and mortgage professionals, asses their financial situation, and consider the risks.
"It's harder to estimate perhaps what your home will sell for than it was, say, a few months ago, as well as how long it'll take for your home to sell. That changing environment makes it harder to estimate what that sale may look like and when it may happen." Notes Craig Munn, spokesman for the Real Estate Board of Greater Vancouver.
The market has come down from record levels to more typical sales levels, he adds.
"There's a little bit more selection for homebuyers to choose from and a little bit more time to make your decisions on the buying side," he says. "On the selling side, it means it's taking a little longer for homes to sell and you really need to look at the price you're setting for your home as well, to ensure that it's aligned with the current market conditions."
Read the full Globe and Mail article here.